School Profile
Neil Crawford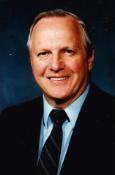 Crawford Plains School was named after Neil Crawford, an Edmonton MLA and Cabinet Minister. Neil Crawford Served in the Legislative Assembly of Alberta from 1971-1989. The Neil Crawford Centre, a Government of Alberta Centre in Edmonton, was also named after him. Following his retirement he fought a courageous battle with Lou Gehrigs disease.
The school opened in 1983, and was at one time the largest elementary school in Edmonton. Neil Crawford's spirit lives on in the students through the strength, courage and character that they demonstrate when striving for academic success.
School Trustee -WARD I: Sherry Adams

Sherry Adams brings a faith-based perspective and background to her new role of school board Trustee, having gained experience as a pastor for 26 years and serving on various faith-based boards.
She holds a bachelor's degree of theology and a master's degree of divinity. Sherry hopes to enhance educational experiences for students and build strong working relationships with school councils, staff and the broader community.
"I am honoured to serve as Trustee for the next four years - a position that I do not take lightly. I want all students to have a vital educational experience that leads to success in life."